As the classes celebrated their year end with song, story and food, I was taken by the depth and range of emotions in the room!  There was joy — such joy — celebrating and recognizing the growth and learning that our children have experienced across the school year. There was sadness — recognizing the end of a special moment in their lives.  There was gratitude — appreciating the fact that we were able to share in these moments together. For the rest of our parenting journey this complexity of conflicting emotions may just be a part of our truth — there is anticipation for what is to come, mixed with longing for what is passed.
This year our children filled their days with wonder, curiosity and delight.
They showed us that they are capable and competent learners that bring lively minds to their problem solving and learning.
They actively sought information and facts. They made connections and grew their understanding. They shared their own ideas, thoughts, questions and plans.
Most importantly, they did all of that in partnership with a community of others. They learned how to share a plan. They learned how to express their needs and hear the needs of others. They learned who they are in relation to others outside of their family.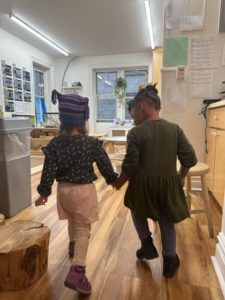 While today marks the official end of the school year, your kids will forever carry all of these experiences with them. They will provide the foundation for the rest of their learning. So yes, there is a pull towards longing for this time to linger but know that they are ready — ready to discover the many opportunities that lay ahead!
I send a very special thank you to the faculty and staff for their dedication and tireless efforts. They are the heart and soul of Greenhouse and are responsible for so much of what makes us special. A special shout out of love to Paula, who is retiring at the end of the summer. She has left a permanent and lasting mark on the lives of hundreds of children and families; her legacy at Greenhouse will live on.
I'd also like to send out huge thanks to all of the Class Reps, committee chair people, and volunteers—your help is vital to building our community. Also, an extra special thank you to the PA Co-Chairs— Annie Bystryn and Katie Baker they have led the PA's efforts to build a strong parent community with warmth and grace. Have a wonderful summer all!
Much love,
Renee