Dear Parents,
It's so hard to believe we only have three weeks left of the school year! We have been looking back at photos of the beginning of the year, and wow. So much growth everywhere! It's been wonderful to be a part of your children's school experience and we are so grateful for all of you.
At school this week, we have continued to talk about flowers. We invited the children to press some flowers and leaves into white play dough. They loved seeing the impressions made. We have also been reading lots of books: Planting a Rainbow (Lois Ehlert), Flower Garden (Eve Bunting), Look! Flowers! (Stephanie Calmenson), and Flowers by Gail Gibbons. We are also learning some new songs, but those will be a surprise for our end of the year party on June 9th!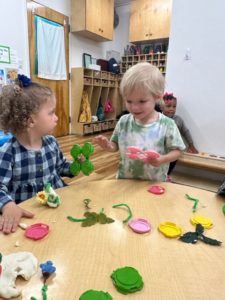 We have even been painting with flowers! The children dipped small daisies into glass jars filled with Spring watercolor paints. WE offered the children a choice of the daisies on their on and daisies which we had taped onto a wooden stick. They noticed it was more like a paintbrush when it was taped to the stick, but more fun to dip the entire daisy into the watercolor!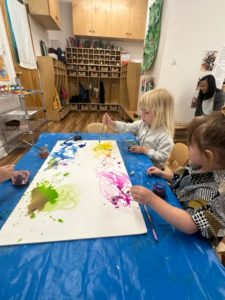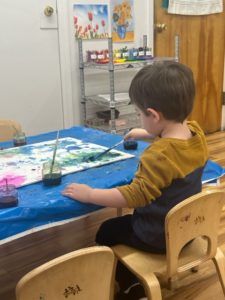 It was also fun to watch the colors mix with each other on the board we were painting on. What an experience, to paint with flowers. The process of using different materials to create art with, process art, is so eye opening. To just immerse ourselves in the moment of creating and discovering.
Save the date! June 9th is our last day of school. Please join us for a party from 11-11:30 outside in the Big Yard! You are all invited!
Warmly,
Rachel, Sarah, Sofia